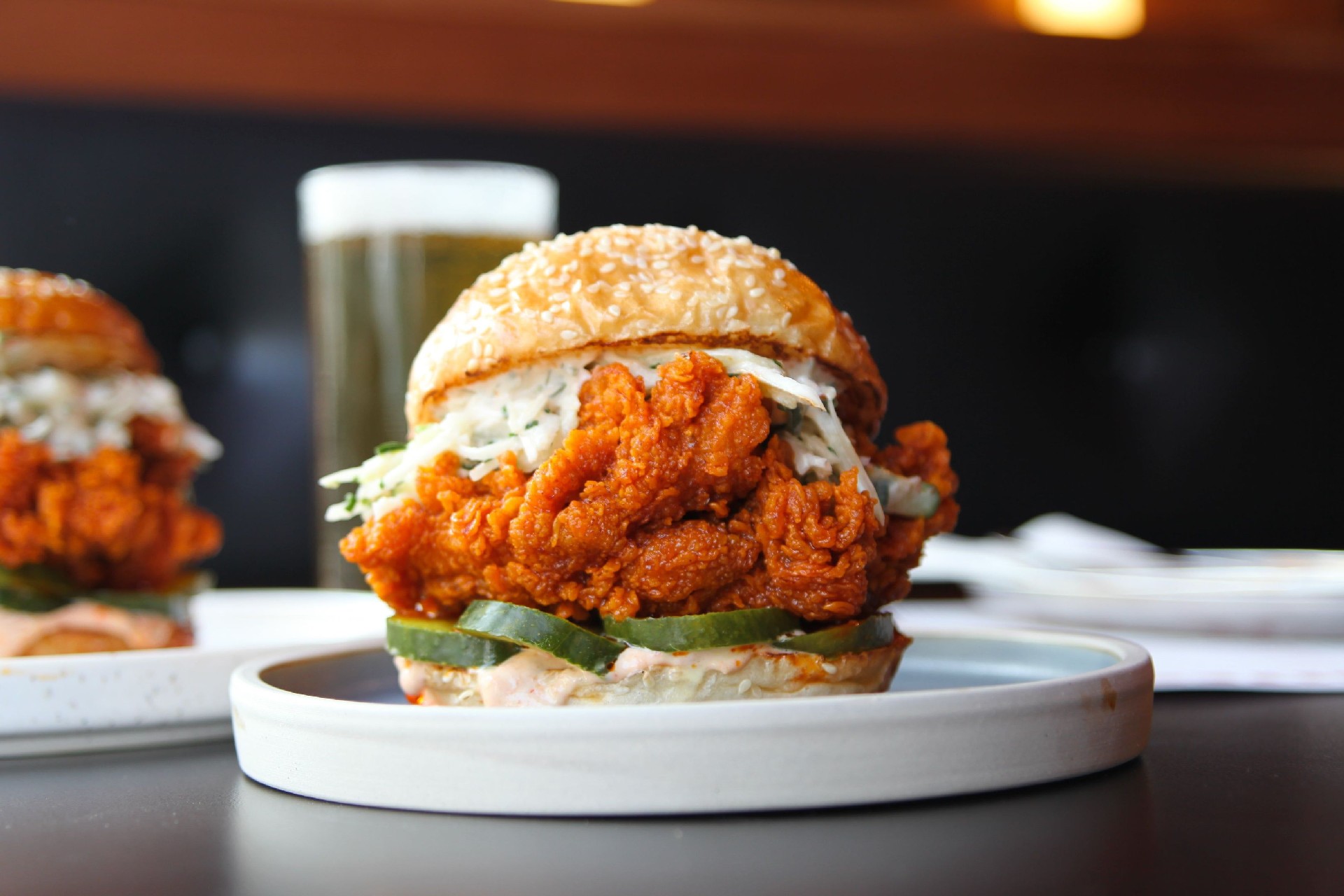 Dining at The Sun & 13 Cantons
Coqfighter now available at The Sun & 13 Cantons
Coqfighter is now available at The Sun and 13 Cantons serving their delicious menu focusing on all things fried chicken. Their menu features amazing varieties of fried chicken and chicken burger dishes with inspiration ranging from the USA to Korea. Their indulgent menu features equally exciting options suitable for vegans and vegetarians.
To order, simply scan the Loke QR code at your table and place your order.
About Coqfighter
Born out of frustration at the lack of high quality fried chicken options in London, Coqfighter began as a night for friends at Troy, Tristan and Deacon's apartment in South London.
Having spent the beginning of the decade living in Melbourne, they'd enjoyed many hot summer nights eating plates of Korean fried chicken, served with ice cold beers in the city's bustling Chinatown district.
Nights for friends soon became pop-ups in pubs and after a series of successful residencies Coqfighter found its first permanent home with Boxpark. A short DIY build later and Coqfighter was open to the public with queues to boot.
In a few short years Coqfighter has grown to three restaurant locations and a series of delivery kitchens. Their unique East meets West take on fried chicken has grown cult status amongst London's fried chicken fans.
Coqfighter at The Sun & 13 Cantons
Opening Times
| Day | Opening Time | Second opening Time |
| --- | --- | --- |
| Monday | | 12:00 - 23:00 |
| Tuesday | | 12:00 - 23:00 |
| Wednesday | | 12:00 - 23:00 |
| Thursday | | 12:00 - 23:00 |
| Friday | | 12:00 - 23:00 |
| Saturday | | 12:30 - 23:00 |
| Sunday | | 12:30 - 20:00 |
Food Times
| Day | Opening Time | Second opening Time |
| --- | --- | --- |
| Monday | | 12:00 - 22:00 |
| Tuesday | | 12:00 - 22:00 |
| Wednesday | | 12:00 - 22:00 |
| Thursday | | 12:00 - 22:00 |
| Friday | | 12:00 - 22:00 |
| Saturday | | 12:30 - 22:00 |
| Sunday | | 12:30 - 19:30 |